As travel restrictions begin to slowly ease up across the globe, we're dreaming of heading out to far off destinations and exciting new experiences. Traveling on its own can be stressful, but travel during a pandemic can be especially hard on our minds and bodies. Learn how CBD can help you navigate your next journey from departure to arrival and beyond.
Can You Take CBD on a Plane? The Benefits of Traveling with CBD
Exciting as it is to get back out there, we all know how stressful travel can be. From making sure you're all packed with everything you need, getting to the airport in good time, navigating the maze that is airport security, to actually being on the plane itself – the entire process can really take a toll on our wellbeing.
But can you take CBD on a plane? Rest assured, hemp-derived CBD (containing less than 0.3% THC) can be legally taken with you when you fly across US state borders. Here are a few of the ways CBD and travel go hand in hand.
CBD Can Help to Ease Stress When Traveling
Although research is still ongoing, studies so far suggest that CBD can play a role in helping reduce stress. Taking CBD before, during, or after traveling can help take the edge off any feelings of tension or restlessness.
Ease those pre-flight nerves or help tackle the stress of navigating through a busy airport on a time crunch with soothing and delicious CBD tinctures, chocolate, and fruit chews. Our Calm Collection is specially formulated to ease tension and calm the nerves with broad-spectrum CBD, L-theanine, GABA, and calcium to help support a balanced state of mind. Our Calm Daily Tincture is made with a hint of lavender and mint for an added soothing flavor profile, which have both been shown to reduce stress and tension in the body.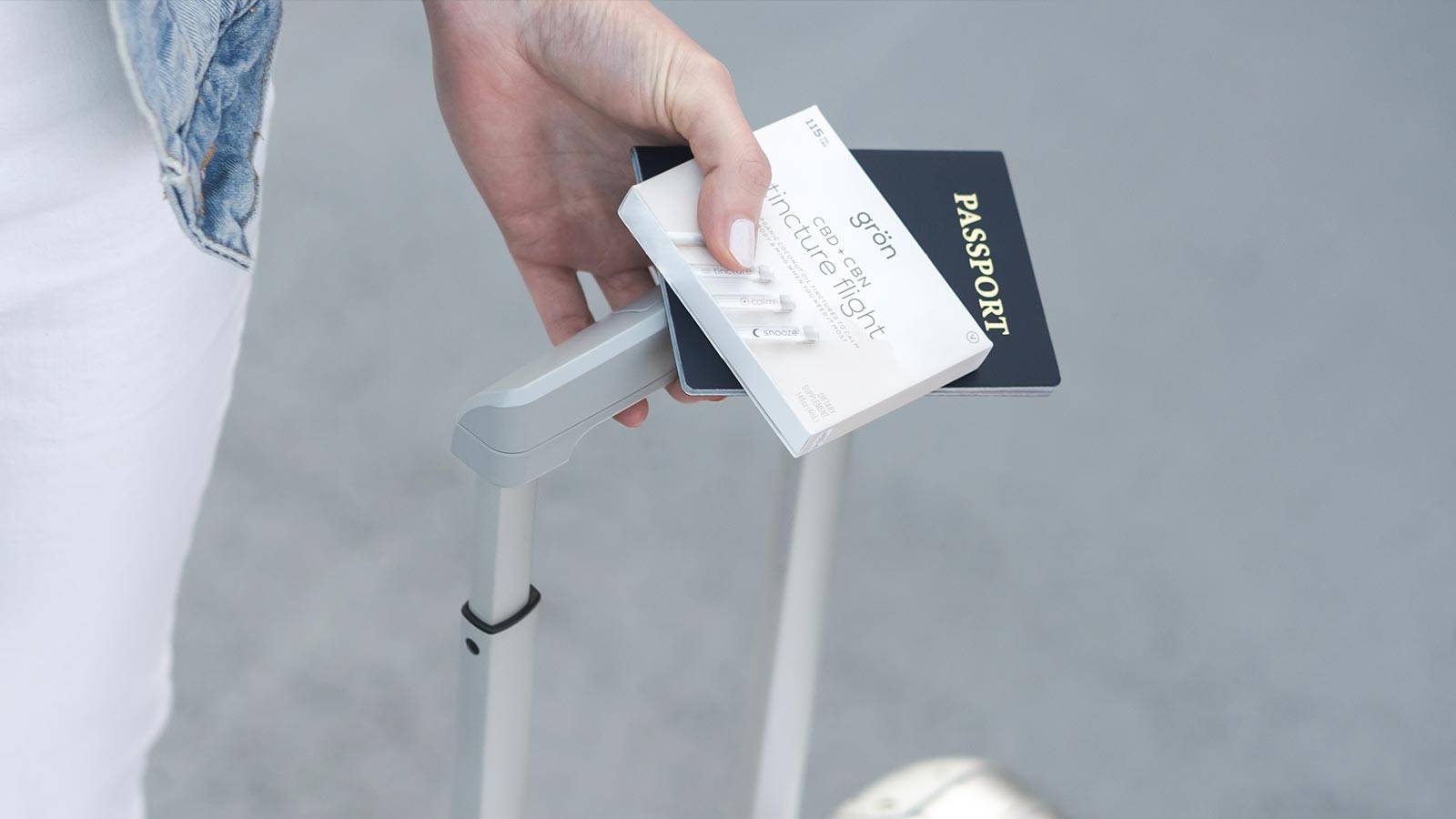 CBD Helps to Ease Sore Muscles and Joint Pain
We've all been there after a long flight – the neck pain, the stiff legs, the achey muscles after being cramped in an airplane seat for hours. Yep, you guessed it, CBD can help with that, too! CBD edibles, tinctures, and topicals can all assist with neck pain, joint stiffness, and general inflammation. Our Relieve Body Balm is a travel-friendly topical that fits effortlessly into any carry-on, delivering targeted relief right where you need it most with broad-spectrum CBD, peppermint and rosemary.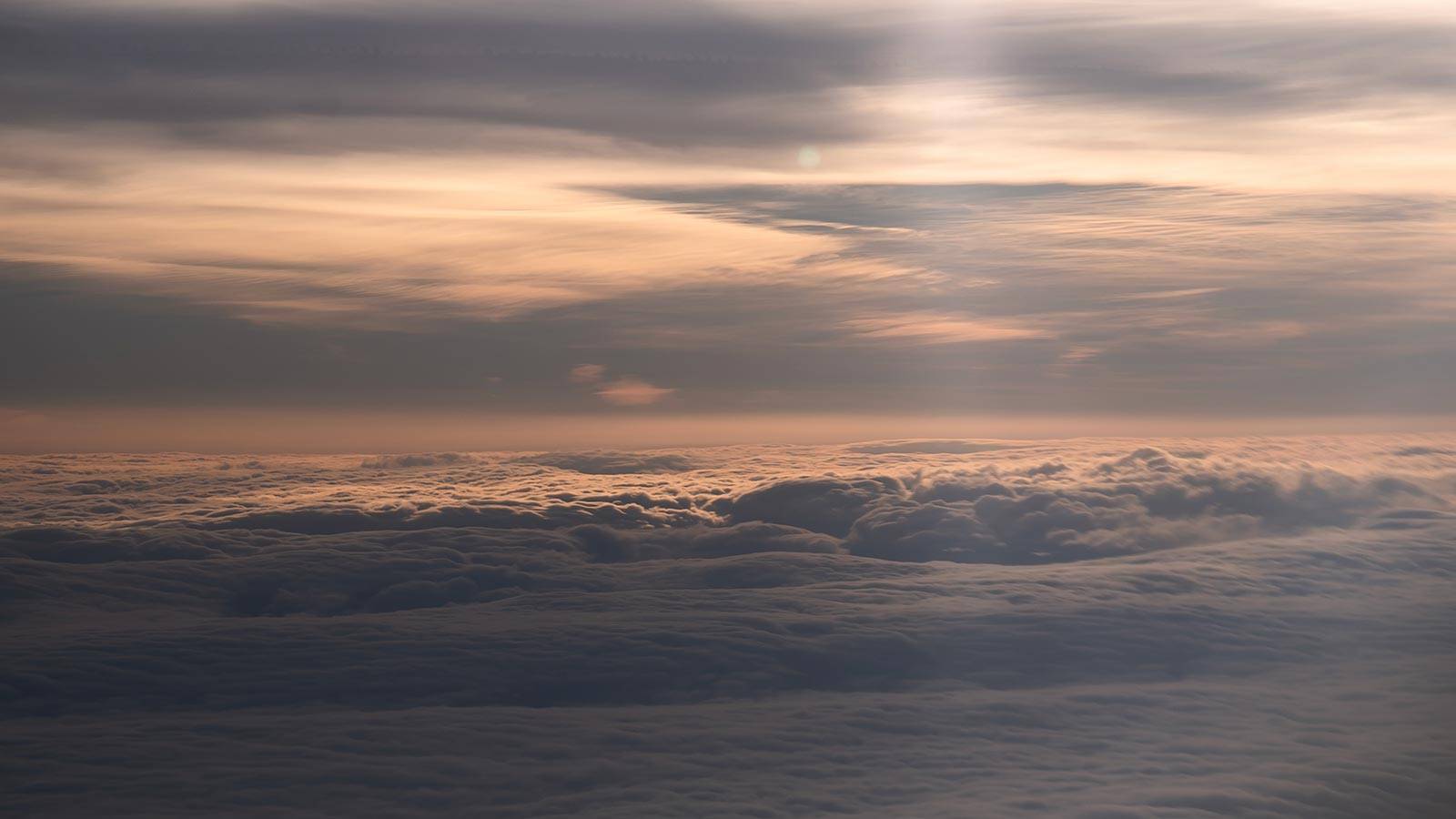 CBD Can Help Prevent 'Airplane Skin'
Air travel can really do a number on your skin. Cabins have low humidity, about 50% of what our skin is used to. In response to the dry, recycled air, our skin may try to overcompensate by increasing oil production. Paired with the fact that for the forseeable future, face masks will be required for airline travel, it isn't great news for our skin. Add in the stress of travel on top of all that, and our skin can use all the support we can provide to stay looking and feeling its best.
The anti-inflammatory and anti-bacterial properties of CBD can help in reducing redness and irritation. What's more, CBD has great antioxidant properties, too. Research has shown that CBD can even be useful in combating acne, as it helps reduce sebum production from the skin's sebaceous glands – keeping your skin clear and radiant.
So the next time you're hopping on a plane, don't forget to stock up on our Renew Face and Neck Cream to keep your skin hydrated and glowing from takeoff to landing. And remember to drink plenty of water before, during, and after your flight to stay hydrated throughout your trip
Should I Give My Dog CBD for a Flight?
Many pet owners bring their furry friends along for the ride when they travel, and this can be particularly stressful for our pet companions. Planes and airports have many unfamiliar sights, sounds, and smells, which can be very agitating for them. CBD for pets can be a great way to ease some of those travel tensions and soothe their nerves so they're better able to relax during the trip. Our CBD Pet Tinctures are specifically formulated for animals—using the same ingredients we use for our human tinctures in a variety of pet friendly flavors they'll love.  
CBD and CBN to Help Combat Jet Lag
Despite the joy and excitement of traveling to distant timezones, jet lag can really put a damper on the trip. Even traveling coast-to-coast in the US can throw off your internal time clock enough to make a big impact.
Preliminary research indicates that CBD can help you get a better night's sleep, helping you to fall asleep when you need to and stay asleep longer. When paired with the minor cannabinoid, CBN (cannabinol), it can be especially effective. Cannabinoids have synergistic properties and work best when taken together. This is known as the 'entourage effect', where two or more cannabinoids work in conjunction to produce a combined effect that's greater than one active ingredient alone.
Our Snooze collection is specifically formulated to support your natural sleep cycle with broad-spectrum CBD, CBN, Valerian root, and tart cherry to help you fall asleep faster and tackle symptoms of jet lag – so you can get on with your day.
---
The Bottom Line
No matter where your adventures take you, traveling can always have its challenges. However, CBD could have a positive impact to help bring balance and serenity to a typically stressful situation. There's a host of potential benefits to using CBD to tackle the obstacles that traveling throws at us, so you can go forth on your own adventures without the stress of setbacks that may come while navigating from point A to point B.